04/21/2022
OOS Members Meet Federal Leaders at AAO Congressional Advocacy Day
The AAO Congressional Advocacy Day and Mid-Year Forum brought more than 400 ophthalmologist from across the country to Washington, D.C. to discuss important policy topics and advocate for the profession. As part of this effort, OOS members met with several members of the Ohio Congressional delegation to talk to them about issues impacting ophthalmologists including Medicare funding and prior authorization reform. Members attending from Ohio included: Joseph Coney MD, Justis Ehlers MD, Carla Ford MD, Arjan Hura, MD, Carl Minning Jr MD, Chris Minning, MD, Walker Motley, MD, Stephen Orr MD, Andrew P Schachat, MD.
---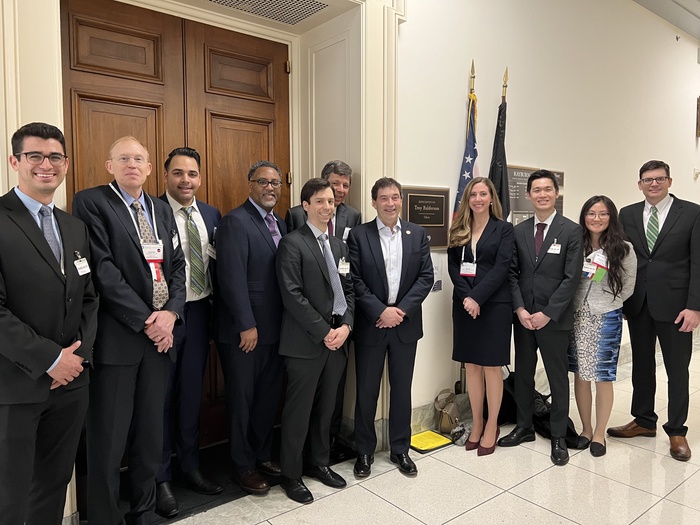 OOS Members meet with Congressman Troy Balderson
---
In addition, due to the support of the membership, the OOS was able to provide scholarships to four Ohio ophthalmology residents to attend the meeting: Rachel Anderson Downes, MD, Shiming Luo, MD, Chad Serels, MD and Kevin Zhang, MD. The scholarship are provided annual and named in honor of Mark Lomeo, MD who served on the OOS Board for more than ten years and represented ophthalmology in Ohio and nationally.
---
Don't Forget To Vote – May 3 Primary
While the disagreement between the Ohio Supreme Court and Ohio's legislative leaders continues over the legislative maps, the primary for all state-wide offices (such as governor, U.S. Senate,, etc.), congressional seats and some local offices will go on as scheduled. Early voting is now open and the election will occur on May 3.
There will be a separate primary for state legislative seats in the Ohio House or Senate as these district maps are not yet finalized. The date and specific districts will be announced at a later date.
---
Donate Now to the Ohio Medical Eye PAC
With all the statewide seats up for election this year, including three key seats on the Ohio Supreme Court, the Ohio Medical Eye PAC needs your support now more than ever. We received contributions from several members that attended the annual meeting. If you didn't give at the meeting or were unable to attend, we need your contribution today.